Any day is a great day to explore the city…
If your reading this your wondering what to do in Barcelona? We have some great ideas and information below.
This Mediterranean city has a very pleasant climate all year round. You can enjoy some of the best cuisine in Spain on a outdoor terrace. It has everything you could want from culture to clubs!
Where to start?
One of the best places to start in the city is to head out to the cosmopolitan and scenic beachfront in "Barceloneta" and enjoy the sunset while you drink a Sangría or cocktail. We really like the bar situated below the W Hotel "Salt" as its a little away from the action so offers a chilled out vibe to enjoy a drink and watch the world go by.
Modernist architecture
If you are into architecture is good to know that this city has a lot of the modernist architecture. Visit  the "Passeig of Gracia" starting from Diagonal. You will discover the most elegant buildings ever made. The highlights are  the Casa Mila (La pedrera) or Casa Battlò.
Tapa Time!
After a day seeing all that Barcelona has to offer its Tapa time! Don't waste time trying to find the best place to eat then leave under whelmed. Take a tour to get the best out of your time and money. Take a look at our Best Food Tours & Experiences a great way to try Food and Wine in a selection of hand picked tapas bars where you will meet fellow travellers on the tours along with locals.
Culture
This city full of culture, color, and beauty has been world recognized as great art heritage, with traditions like the "Fiesta de Gracia" that has been developed fro mor than 300 years, this Catalan capital is one of the most invigorating destinations in all of Spain and we at Discover Barcelona will help you get the most out of your visit.
Below is a picture of a typical Tapas bar we visit on our tour.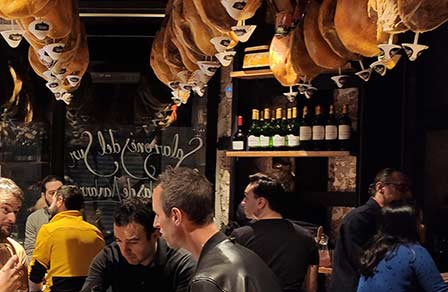 Barcelona enjoys sunny days all year round but what can we do on a a rainy day? Most people find a nice bar or restaurant to spend the day eating tapas and enjoying a glass of beer or local wine, this can be great excuse to see some of many bars in Barcelona. If you...
Before we see what are the most popular Tapas in Barcelona, let´s look how it all started. The original tapas were thin slices of bread or meat which sherry drinkers in Andalusian taverns used to cover their glasses between sips. This was a practical measure meant to...